Nestled in the historic Parkside neighborhood of Buffalo, New York, the 1.5-acre Martin House estate is comprised of multiple residences and interconnected buildings woven together within an integrated landscape.
George and Delta Barton House
4,400 sq.ft. / 408 sq.m.
Darwin Martin hired Frank Lloyd Wright to create a home for his sister Delta and brother-in-law and fellow Larkin employee George Barton. Conceived as a test project, Barton House was the first structure to be built on the property and set an important style precedent. Wright's design for Barton House secured his hire for the Larkin Administration Building – his first-ever commercial commission – as well as for Martin's own home and the rest of the Martin House estate.
Almost continuously occupied since its completion in 1903, Barton House is considered one of the best preserved of any of Wright's Prairie style homes, thanks to excellent stewardship by its owners over the years. Wrights' design is an adapted version of the Walser House in Chicago (1903), with the addition of tile roof, brick veneer, and an expanded verandah.
Darwin D. Martin House
14,978 sq.ft. / 1,392 sq.m.
Darwin D. Martin House is one of Frank Lloyd Wright's earliest and most important works. Although there is a consistency of vocabulary among Wright's Prairie style homes, no other commission is as meticulously detailed as Martin House. It is characterized largely by its expansive size, open spatial plan, and organic design principles drawing inspiration from nature.
Martin House uses a pier and cantilever structural system. This construction method does away with walls allowing rooms to flow into one another, as well as providing panoramic vistas onto the exterior landscape.
Art glass—or "light screens" as Wright called them—are a prominent feature of the home. The Martin House estate contains sixteen individual abstract patterns of art glass, more than for any other commission during this period. The most iconic of these is the design popularly known as the "Tree of Life."
The home also boasts a massive double-sided central fireplace which incorporates an impressive glass mosaic with a depiction of wisteria vines.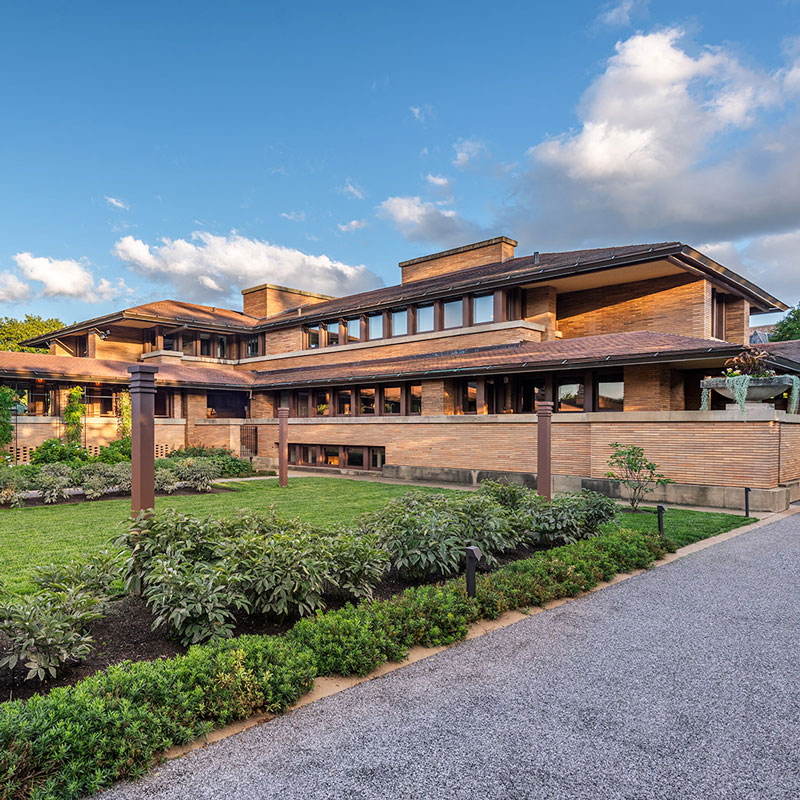 Pergola
1,540 sq.ft. / 143 sq.m.
The pergola is a long open air, covered walkway extending from the principal Martin residence to the conservatory. There are eleven openings on either side of the elevated structure, which serve as "windows" with framed views onto the surrounding gardens and outdoor rooms.
The Conservatory
2,655 sq.ft. / 247 sq.m.
The conservatory is an indoor glass-enclosed garden for protecting, cultivating, and showcasing rare and tropical plants. It is composed of a series of concrete planters with built-in watering mechanisms, as well as a hand-crank system for opening panels in the skylight.
The conservatory also features a dramatic, full-size replica of the classical sculpture of the Winged Victory of Samothrace—a commanding presence that is visible from the front door of Martin House.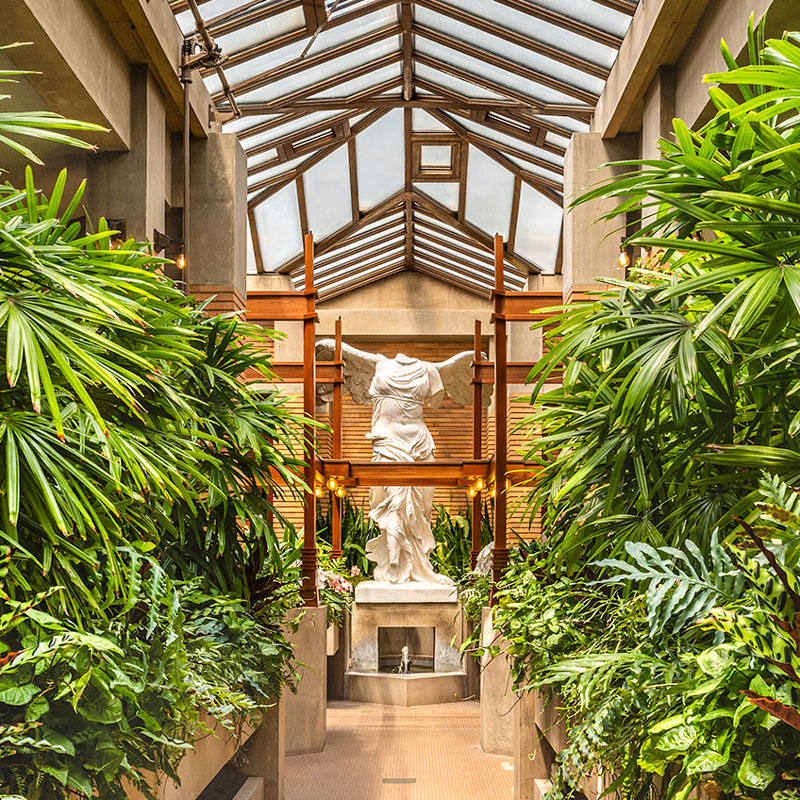 The Carriage House
5,507 sq.ft. / 511 sq.m.
The carriage house signals the transition from the use of horse-and-buggy to automobile as a mode of transportation for the wealthy. The structure functions doubly as barn and garage. It features stables with stalls for the Martins' two horses, as well as a carriage room. In addition, there is an adjoining enclosed, exterior paddock. Although it is a utilitarian work space, surprisingly, the carriage house—like the adjacent conservatory—has a single, unique pattern of art glass. The carriage house currently serves as our Museum Store.
Gardener's Cottage
1,668 sq.ft. / 155 sq.m.
The design for Martin House includes a home for a succession of gardeners and their families who lived and worked on the estate. Completed in 1909, the Gardener's Cottage represents the type of Prairie house developed by Wright to provide affordable and beautiful housing for all. The 1,668 square foot cottage, like other structures on the property, contains a signature pattern of art glass as well as built-in planters to bring nature closer to the interior.
The landscape is central to Frank Lloyd Wright's vision for Martin House, where buildings on the property are designed in harmony with nature. The plan is based on Wright's concept of organic architecture which is notable for artfully blurring the distinction between interior and exterior space. The grounds of the estate are punctuated with expansive gardens and outdoor rooms, which contain a variety of colorful floral plantings, trees, shrubs, and vines. The landscape's most distinctive feature is an arc of seasonal blooms, known as the floricycle, that encompasses the east verandah of the main house.
See all the ways you can explore Martin House.